Enjoy a Beautiful and Healthy Smile!
Cosmetic dental treatments enhance the natural beauty of your smile by changing the shape, shade, and spacing of your teeth.
Image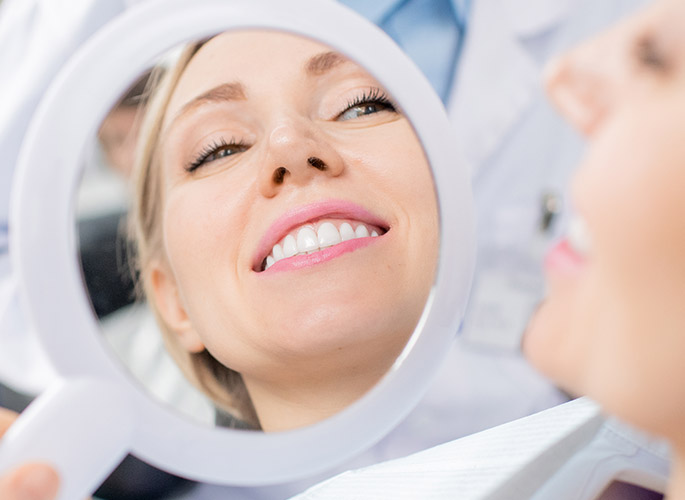 Your smile is the first thing people notice so it's important to make a good first impression. Even a small cosmetic change to your teeth or mouth can make a big difference in your appearance and we offer aesthetic treatments for every budget. We'll work with you to design a cosmetic treatment plan to give you a beautiful, radiant smile.
Book Now
Veneers
Veneers are used to provide a complete smile makeover. They can completely change the shape, size, spacing, and shade of your teeth almost instantly to give you a gorgeous new smile.
Video: Veneers
Lumineers
Lumineers are special veneers made from an advanced, ultra-thin porcelain compound. They can be placed without anesthetic or modifications to your existing teeth.
Contouring and Bonding
Contouring and bonding are cosmetic treatments we use to repair or reshape teeth. We can use these treatments to correct spacing, make teeth appear more even, and repair stains or chips in the enamel.
Ceramic Crowns
Cosmetic ceramic crowns are used to restore and enhance teeth that can't be treated with veneers, contouring, or another cosmetic treatment. Once they are placed, ceramic crowns look virtually identical to your natural teeth.
Video: Crown
Frequently Asked Questions
What happens at my first cosmetic dentistry appointment?
Your first cosmetic dentistry appointment starts with discussing your goals for your appearance. We'll also examine your teeth and take X-rays and photos. If possible, we'll show you a preview of your new smile, and you may be able to try temporary cosmetic restorations to see how your smile will look.
How do I take care of veneers and crowns?
Brush and floss your veneers and crowns like normal teeth. Although they can't get cavities, they can be stained by food and beverages. Plaque and tartar can also build up around the base of veneers and crowns, so you will need to have them professionally cleaned just as you would natural teeth.
Should I get veneers or cosmetic crowns?
It depends on your needs. Veneers are a cosmetic treatment and only change the appearance of the visible areas of your teeth. Crowns are designed to restore the appearance and function of a natural tooth. As a general rule, cosmetic crowns would be used instead of veneers for a tooth that needs to be completely restored. Ask your dentist for more information about which option would work best for you.
Related Videos