Enjoy a Natural New Smile!
Get a beautiful new smile with dentures! Our dentures are designed to restore the shape and appearance of your smile and reduce the "sunken" appearance of your mouth that can be caused by tooth loss.
Image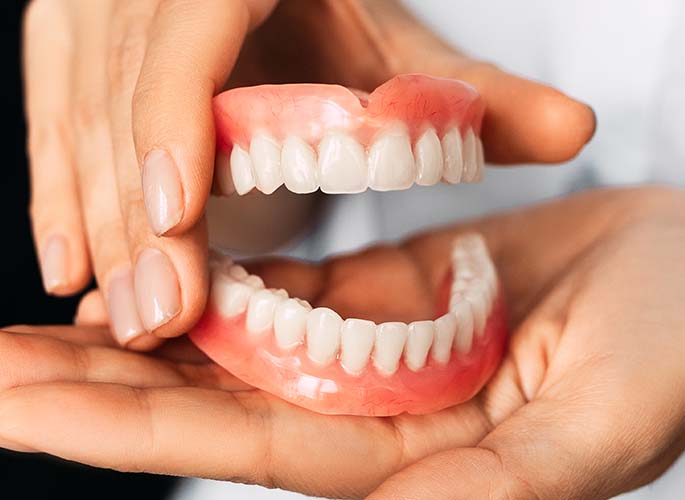 Dentures have been used for centuries as a tried-and-true replacement for single or multiple missing teeth. Modern dentures are made from advanced composite materials that are durable and natural-looking, and they are designed to fit your mouth comfortably and securely without shifting or slipping. We provide custom-made full and partial dentures to suit your needs.
Book Now
Full Dentures
Full or complete dentures are used to replace all the teeth in a single arch and restore their appearance and function. They're designed to match the contours of your gums and mouth, so they fit comfortably, remain in place, and give you a natural-looking smile.
Video: Full denture
Partial Dentures
Partial dentures are used to replace single or multiple missing teeth in a single arch. The replacement teeth are made from composite materials that can be shaped and shaded to match your existing teeth.
Video: Removable partial denture
Implant-Supported Dentures
Implant-supported dentures are attached to permanent dental implants, so they are very secure and stable. We provide several different implant-supported denture options to suit your needs.
Image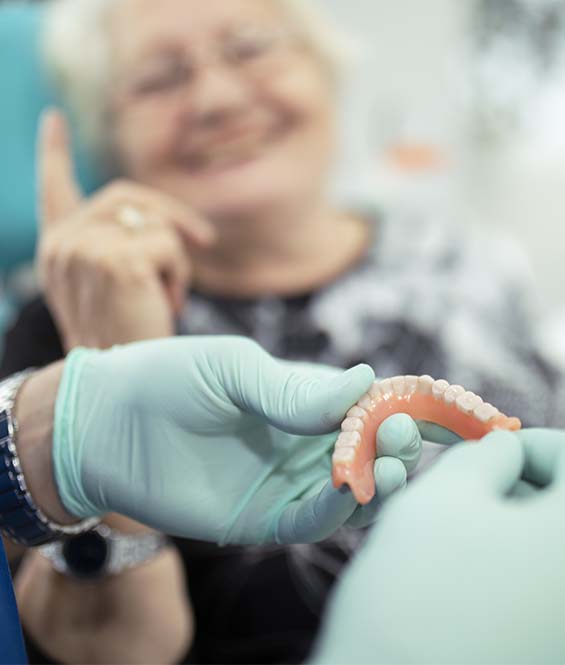 Frequently Asked Questions
My dentures are slipping, uncomfortable, or broken. What can I do?
If your dentures are damaged or don't fit properly, bring them back to our office to have them repaired.
How do I care for my dentures?
Remove and rinse your dentures after every meal to keep them clean and free from food particles. Clean your dentures with a brush and solution every night before bed, and soak them overnight.
Will dentures affect my speech or eating habits?
Yes, dentures can affect your speech when you first wear them. Many patients find it helps to practice speaking by reading aloud to themselves. They can also affect your ability to eat, and you may need to avoid hard or sticky foods that can damage your dentures. Speak to your dentist for advice on how to adjust to wearing your dentures.
Related Videos